Fleetguard Cummins Filtration Products
Fleetguard - Cummins Filtration
The Fleetguard brand is a division of Cummins Filtration whose origin began in 1958 as a single filter production line developed by the Cummins Engine Company to meet the high-performance requirements of Cummins diesel engines — previously known as The Seymour Filter Company, the facility located in Seymour, Ind., near Cummins headquarters in Columbus, Ind. Production started with two employees who sewed cloth-bag lube oil filters. Today Fleetguard is the world leader in filtration and exhaust products for diesel engines.
Under the Fleetguard brand, Cummins Filtration markets filtration products to original equipment manufacturers and the replacement service market for the truck, construction, agricultural, industrial, and hydraulic (on- and off-highway) filters. As a world leader in innovative product technology, Cummins Filtration has introduced many significant advances in the heavy-duty industry, including the introduction of combination full-flow/bypass filtration in the 1980s, multi-layered StrataPore media in 1986, centrifugal filtration in 2000, entirely non-metallic lube and fuel filters in 2005, and many other state-of-the-art technologies.
Fleetguard Filters is also known as Cummins Filtration
The Fleetguard division is a wholly-owned business unit of Cummins Inc. Cummins Filtration is a world leader in OEM and aftermarket filtration solutions for diesel engines, transmissions, and industrial applications, including engines ranging from 2.9 Liters to above 100 liters in displacement.

Cummins Filtration is a global power leader that designs, manufactures, and sells heavy-duty air, fuel, hydraulic, and lube filtration, chemicals, and exhaust system technology products for diesel and gas-powered equipment around the world. Cummins serves its customers through its network of 600 company-owned and independent distributor facilities and more than 7,200 dealer locations in over 190 countries and territories.
Fleetguard filtration products are available for heavy-duty, medium-duty, and light-duty trucks. The Fleetguard industrial filtration products cover diesel engines used in construction, over-the-road use, agriculture, power generation, and marine applications.
Cummins Filtration - Fleetguard Filters
No other brand provides the Engine protection you need like Fleetguard.  Explore thousands of Fleetguard parts, Nothing Guards Like Fleetguard. as these products meet or exceed the OEM specifications – Fleetguard engineers all products to meet or surpass original equipment manufacturer specifications to ensure engines and other systems get the longest life.

Fleetguard Filters are backed by the Top Warranty in the Business, With the most all-encompassing and extensive warranty in the industry, Fleetguard ensures that customers can have complete faith in their purchases.

Fleetguard - Cummins Filtration Filters are available for the end-user or the Fleet Customer Fleetguard has over 8,300 products covering the broadest range of air, lube, fuel, and hydraulic filters in the heavy-duty industry.
Cummins Filtration - Fleetguard provides the filters that meet and exceed OEM performance requirements for your engine.
All of the fluids and the air in today's precision engines need to be kept clean to prevent damage to parts working within close tolerances of each other. Advanced filters supplied by Cummins Filtration, a leader in the technologies required to protect these systems, designs and manufactures advanced filters that clean the air coming into the cylinder, oil in the system, and fuel coming into the injectors.
The filter's efficiency rating is based upon its Micron Rating. A Micron is a term of measurement used to express the size of particles captured by the filter. The lower a filter's micron rating, the smaller the size of the containment it will remove from the liquid being filtered.  The micron rating of a filter expresses the diameter of the solid particle it will eliminate from a liquid. Micron ratings do not apply to Air Filters.
Micron Rating Perspectives:
One-thousandth of a millimeter
One-Millionth of a Meter
One 25th of a thousandth of an inch
Human hair is said to be about 50 micrometers wide.
Filter Efficiency Ratings:
Nominal Micron Rating (NMR):
Nominal Micron Rating means the filter can capture a given percentage of particles at the stated size. For example, a filter might be said to have a nominal rating of 90% at 10 microns.
Absolute Micron Rating (AMR):
Absolute Micron Rating is based on a single pass test and is obtained by passing fluid-containing glass beads through a flat sheet of filter material. Any beads that pass through are captured and measured.

KLM Performance offers these suggestions when servicing your engine:
Use only high-quality filters for your engine.
Purchase filters approved for use on your engine.
Do not buy filters based on their Micron Rating.
Regular Service based on the engine interval rating is the best way to promote trouble-free engine operation.
Proper maintenance intervals support the best fuel economy possible.
The advantages obtained by using the Fleetguard filtration products:
Improved fuel economy Enhanced fuel economy
Reduced operating costs
Reduced environmental impact
Enhanced engine performance
Improved engine power output
Lower engine wear
The maximum level of filtration efficiency
Extended service intervals
Cummins Filtration Fleetguard Filters offer the ultimate engine protection for increased engine life. These Cummins Filtration products meet or exceed OE performance requirements, as well as the new challenges of modern engine technology. The use of premium quality filtration products has a significant influence on the life of your engine and can lower your total cost of operation over the life of your engine.
The Fleetguard Cummins Filtration Products are backed by the best warranty in the business.
Superior products deserve a superior promise. That's why our products are backed by one of the most comprehensive warranties in the industry. If you're unhappy with the performance of any Fleetguard product, we will replace it free of charge. And unlike industry competitors, our warranty coverage is not pro-rated, so you're fully covered for the recommended service life of the product.
You can depend on Fleetguard - Cummins Filtration products for your Cummins engine to provide:
OEM-approved engine protection

Prolonged engine life
Compatibility with extended maintenance intervals
Increased engine up-time, decreased downtime
Optimum fuel economy
Reduced maintenance cost
Cummins Developed, Cummins Approved.
Fleetguard filters are field-tested all over the world to meet the toughest industry and internal standards.
Cummins engines and filters are developed together to ensure maximum compatibility.
Manufactured since 1958, Fleetguard filters are Cummins owned and Cummins inspired.
We are Cummins and we know engines!
FleetGuard Provides The Best Warranty Filter in the Business.
The Cummins Filtration Warranty extends throughout their entire line of products, ensuring the same highest standards promise of performance and coverage beyond the competition. Visit cumminsfiltration.com to learn more about the competitive benefits of the Fleetguard - Cummins Filtration Warranty.
No Over Filter Guards Like Fleetguard!
KLM Performance offers quantity discounts on all filters offered. Buy your filters in quantities and save! Please feel free to Contact Us if you do not see the filter you are looking for.
Choose a product category:
Air Filters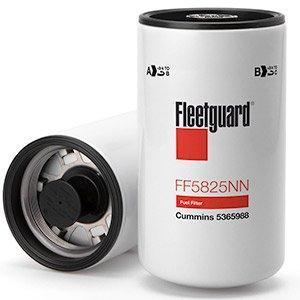 Fuel Filters
Fuel Water Separation Filters
In-line Fuel Filters
Crankcase Ventilation Filters
Oil Filters
Transmission Filters
Cooling System Filters
Water In Fuel Sensor
Engine Block Heaters
Oil Analysis Kit
Coolant Analysis Kit
Fleetguard Nanonet Advanced Filtration Media